Sonokinetic has released Arpeggio, a concert harp sample library for Native Instruments Kontakt.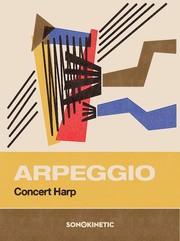 This instrument speaks to your imagination like no other. The beauty of the tone character is reflected in each composition. It's enchanting, mysterious and mystical. Each time the concert Harp plays it brings orchestras, musical phrases and harmonic transitions to a creative peak. The large concert harp is one of our most favourite instruments, and we had this project on the top of our wish list. So be assured we put in our best effort to capture this instrument in a sample library at the highest possible quality, as you have grown to expect from Sonokinetic. The concert harp is a large and modern classical instrument, designed for classical (symphonic) music or played solo, as part of smaller chamber ensembles, and in cinematic orchestras.

It's widely used in symphonic cinematic composition from smaller project to the largest imaginable John Williams scores. With a wide harmonic range and diversity in performance styles this instrument is converted into a very flexible, easy to use but diverse sampled instrument. With "Arpeggio" Sonokinetic brings the epic power of the Concert harp to your fingertips with a wide variety of multi layered instruments spanning from portato / staccato played to legato , flageolet, picked, bisbigliando and the highly popular press-de-table. Tempo synced scale runs and glissandi in all major, minor, diminished and pentatonic keys. With an all exclusive "Arpeggio"- only collection of HarpFX patches and a mind blowing user interface this instrument will not let you down. It will inspire you and your productions to reach new heights
Arpeggio features
Base samples: 1 instrument patch containing the following playing styles: Short (one-hit), Long (sustain), Flageolet, Picked, Bisbigliando, Press de Table, FX Free Improv, FX Chord Improv, Glissandi in multiple styles, scales and keys.
Single instrument for Kontakt 4.1 and higher with 4 panels – Main, IR, EQ & Credits.
Tempo-synced runs (Up, Down and Up-Down).
Convolution reverb applied to the multi instrument to represent the original acoustic space.
Sonokinetic draggable IR space? design knob to allow dynamic assignment and configuration of the convolution effects.
Dynamic sample loading & purging for efficient memory usage.
Customisable keyswitching system to allow command of articulations in your compositions.
Visual representation of current scale and key when playing glissandi.
1500+ samples. (3,97 GB sample content).
Arpeggio for Kontakt is available to purchase for 49.90 EUR.
More information: Sonokinetic / Arpeggio