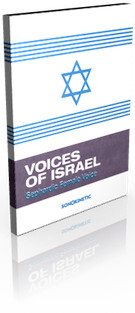 Sonokinetic has announced the release of Voices Of Israel, a sample library for Kontakt featuring Sephardic female vocals.
Filled with intriguing, mysterious and authentically sung traditional jewish music. Performed by one of the greatest contemporary classical Jewish singers of our time; Hadass Pal Yarden. Her musical talents, professional and impressive sound and specifically specialized musical style makes these captured performances stand out from any other previous Sonokinetic projects.

This library offers you chants, improvisations, poems and songs in one of the numerous classical Jewish traditional styles namely; "Sephardic" music. This first volume of "Voices of Israel" also includes improvisations on western harmonics which complements music written in western musical root harmonics, which makes this library very flexible and versatile to implement into your musical projects.
Voices Of Israel for Kontakt 4.1 is available to purchase for 59.90 EUR.
More information: Sonokinetic / Voices Of Israel