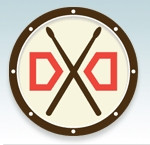 Sonama Wire Works has released two new InstantDrummers: High Gear & Rooster Tail.
RiffWorks' InstantDrummer (Mac and Win) provides easy to use, tempo-sycronized drum loops for your tunes. Most InstantDrummer Sessions are recordings of professional drummers in studios.
High Gear & Rooster Tail features
These drums were recorded at the legendary Sound Kitchen "Big Boy" studio near Nashville.
Tony Morra, Drummer; Steve Marcantonio, Engineer; Rick DiFonzo, Producer.
Tempo: 146 BPM (High Gear), Tempo: 105 BPM (Rooster Tail).
Time Signature: 4/4.
Genre: Rock.
The High Gear and Rooster Tail Discrete Drums InstantDrummer Sessions are available to purchase for $9.99 each. Until February 28, 2010 you can get 3 InstantDrummer Sessions for the price of 2 with Coupon Code: DISCRETEDRUMS
Sonoma Wire Works has also announced 10% off on Sugarfoot packs for Drumcore and Kitcore though February. Details in the January newsletter.
More information: Sonoma Wire Works / InstantDrummer