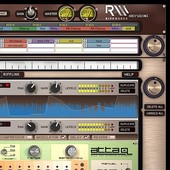 Sonoma Wire Works has released version 2.6 of RiffWorks Standard, a software for recording and sharing music for Windows and Mac.
Capture ideas at the moment of inspiration. Create songs easily with drums and effects. Collaborate online with musicians around the world (free for a limited time). Cast tunes to an enthusiastic online community.

RiffWorks (Mac/Win) makes playing, recording and sharing music fun!
Changes in RiffWorks Standard v2.6
Drag and drop layers to rearrange, or drag to another riff to copy.
Compatible with the most recent OS versions: Windows 7, Vista, XP SP3, MacOS 10.6, 10.5, 10.4.
Compatible with the lastest Amp Model plugins: IK Multimedia Amplitube 3, Line 6 Pod Farm 2, Studio Devil Amp Modeller Pro and VGA II, NI Guitar Rig 4, Overloud TH-1, and many more.
Additional free InstantDrummer demo content from Discrete Drums and DrumCore is available in the Sonoma Wire Works online store.
RiffLink Online Collaboration Updates:

RiffLink code has been rewritten for much improved speed, performance and reliability.
Layer and Riff order is preserved in collaborations.
Loading a collaboration shows progress of synchronization with the server.
Active Collaborations panel shows a JOIN button in viewable collaborations, and a FULL button while 4 players are actively collaborating.
Riff Notes are now saved correctly in collaborations.
Importing riffs or songs from locally saved RiffWorks files to RiffLink has been improved.
If you become disconnected from RiffLink, warnings are properly given to keep you from adding more content until you reconnect.
Streaming of InstantDrummers that you don't own, while collaborating with users who own them, is working better and faster.

Saving a Riff locally that includes an InstantDrummer that you own will include the InstantDrummer content and settings locally.
Saving a Riff locally that includes an InstantDrummer that you streamed, but do not own, removes the drummer settings and the content is replaced with the demo InstantDrummer. These settings are restored when you purchase the InstantDrummer.
Duplicating another person's Riff that contains an InstantDrummer that you do not own will replace the drummer on your computer with the demo drummer.

RiffLink Membership Changes

RiffWorks T4 v2.6 will require a RiffLink Membership.
RiffWorks Standard v2.6 includes 60 days free RiffLink Membership.
RiffLink Membership fee is now priced at $10.
With the release of v2.6, earlier versions of RiffWorks will no longer be able to connect to RiffLink.

Many additional minor improvements.
RiffWorks Standard is available to purchase for $129 USD. The update is free for current users. RiffWorks T4 (free) will be updated soon.
More information: Sonoma Wire Works / RiffWorks Standard