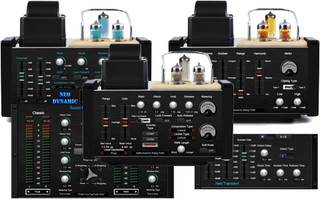 Sound Magic has announced Dynamic Bundle, a collection of 5 dynamic processing plug-ins at a discounted price.
Neo Loudness is a comprehensive tool designed to control loudness. Neo Loudness not only includes traditional compressors and limiters, but it also features a new type of Maximizer.

Neo Dynamic is a new concept in dynamic processing technology. Different from ordinary compressors/limiters, Neo Dynamic not only offers more sonic variety than traditional units, it is far easier to use. Neo Dynamic starts with 10 compressors/limiters, modeled after famous brand names such as SSL,API,TubeTech and so on. Each of these has their own famous "flavors" ready to use.

Neo Preamp is reminiscent of a vintage channel strip which not only boosts or cuts the audio signal, but also add "things" to it. People like to remember that this or that particular vintage gear added a certain color to their recordings – and this is exactly what Neo Preamp does.

Neo Transient is a new concept for level independent dynamic processing. Unlike common compressors and limiters, Neo Transient reacts on Transients – those short peaks in the audio signal – rather than the overall signal loudness level. In this way, Neo Transient creates an entirely new way to process your tracks.

Meter Man is a plug-in features different K-System Meters.
The bundle is available for purchase for 199 EUR. Existing users who have already purchased any plug-in in the dynamic bundle can upgrade by paying the difference.
More information: Sound Magic / Dynamic Bundle