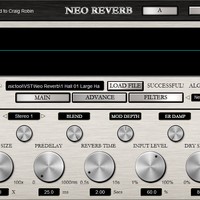 Sound Magic has announced Neo Reverb, a hybrid algorithm and convolution reverb effect plug-in for Windows.
Nowadays, when musicians and technicians are talking about reverb, Convolution Reverb is considered to have the best sound – it's more realistic. At the same time, Algorithm Reverb is viewed as more alive and dynamic, with better playability.Combining the advantages of both has remained a dream – until now.

Sound Magic brings this dream into the real world. By converting the True Stereo IRs of specific spaces to Algorithms, Sound Magic is the first to accomplish this impossible mission. Opening a whole new doorway for digital reverb, we present Neo Reverb.
neo Reverb features
Internal 64-bit floating point precision.
All-Purposed Reverb contains 8 Algorithms for different spaces, including, Hall, Concert Hall, Room, Plate, Chamber, Ambience, Space and etc
Innovative Hybrid Convolution and Algorithm Reverb Engine
Innovative Cascade True Stereo technology
Powerful modulation system helps to achieve a dynamic sound
Over 40 in depth controls on the Reverb
Over 130 algorithm IRs in 6 different categories for your uses
Innovative Dual Cores Controls let users compare different settings quicker.
Support up to 32Bit/384KHz resolution.
The plug-in costs 99 EUR. A Pro version including an IR file convertor is available for 199 EUR. (Windows VST).
More information: Sound Magic / Neo Reverb