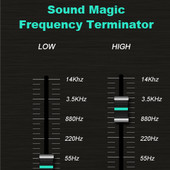 Sound Magic has announced the release of the Timbre Rider, Frequency Terminator and Frequency Scissor effect plug-ins for Windows.
Timbre Rider is an extraordinary collection of timbre processing tools. From high frequency to low frequency, from enhancer to cutter. You will always find a perfect tool to take your timbre to an entire new level. Timbre rider contains 5 powerful plug-ins worthy over €89, now it is only €49, nearly only €9 per plug-in! Timbre Rider is provided as Windows VST and Add-ons for Supreme Pianos

5 Plug-ins in one bundle: AIR, Bass Lord, Exciter, Frequency Terminator, Frequency Scissor

Frequency Terminator is a special tool for totally killing specific range of frequency. Its filters have a 384dB attenuation rate and a low ripple which result a rather low distortion than other filters. This make it is ideal for eliminate a range of frequency which you do not want it appears in your music at all.

Frequency Scissor is a special tool for cutting specific range of frequency. Its filters have controllable ripple and order which influences the overall sound.It is the ideal choice if you want to cut some frequency.
More information: Sound Magic