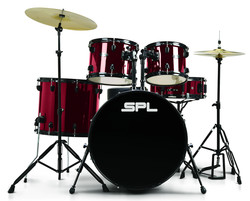 Sound Percussion Labs, the evolution of the Sound Percussion brand, has launched with a new look, a hip new logo, and a bold new line of high-quality drum kits, percussion, and hardware designed to meet the needs of beginners, students, and experienced professionals alike.
SPL's new Unity Series represents a fresh generation of pro quality drum kits that combine sleek, modern design and rugged construction to create a range of all-in-one kits that offer everything you need, right out of the box. Unity kits are an ideal choice for students and intermediate drummers, as well as experienced players who want a practice or additional gigging kit.

From subtle and laid back to slamming power punch, SPL Unity Series drums deliver superb tone with more than enough resonance, volume, and power. Unity kits feature a sleek, streamlined look, with head-turning hardware and a choice of three popular finishes. And every Unity kit is built tough, with rugged, multi-ply, all-poplar shells, precision cut 45-degree bearing edges, and low-mass lugs for maximum resonance.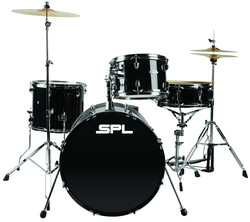 The Unity D4522 is a professional 5-piece kit that delivers a complete playing experience, right out of the box. The kit includes a 22″ x 16″ kick drum, 10″ x 8″ and 12″ x 9″ mounted toms with adjustable mounts, 16″ x 14″ floor tom, and a matching 14″ x 5″ wood snare. Also included is a pair of 14″ hi-hats and an 18″ Crash/Ride cymbal. The D4522 features cool black coat hardware and rugged, double braced cymbal, snare, and hi-hat stands, along with a single-chain direct drive kick pedal, and even a pro drum throne.

The Unity D4420 kit is a 4-pice kit that includes a 22″ x 16″ kick drum, 12″ x 8″ mounted tom, 14″ x 12″ floor tom, and matching 13″ x 5″ wood snare. The kit also includes rugged double-braced cymbal, snare, and hi-hat stands and a single-chain direct drive kick pedal. Customize your kit by adding your choice of cymbals and throne. The D4420 is a great choice for drummers looking for a great sounding, solidly built solution that's compact and easy to setup and tear down.

The first offering from the brand new Velocity Series is the S5418 Street Bop kit. This high-quality but ultra compact 4-piece kit is a perfect fit for a wide range of gigs. The kit's classic birch and basswood construction delivers crisp highs and well defined lows, making it a great choice for both studio and stage. The kit includes an 18″ x 16″ kick drum with matching wood hoops, a 10″ x 7″ mounted tom, 13″ x 13″ floor tom, and a matching 13″ x 5″ wood snare. With polished chrome hardware on a silver metallic glitter finish, the Velocity Street Bop kit is a fresh new take on a compact, go-anywhere gigging kit.

SPL Product Manager Gerry Helfrich remarked, "Sound Percussion Labs is truly a new generation of drums for a new generation of drummers, and both the Unity Series and the Velocity Series will ensure that drummers can have many options, even on a budget. Whether you're an aspiring drummer looking for a kit to hone your chops on, or a seasoned professional looking for a second kit for rehearsal or gigging, there's an SPL kit for you."
The Unity and Velocity series are available at all Guitar Center stores and Musician's Friend. The Unity D4522 has a street price of$399.99 USD; the Unity D4420 is $279.99 USD, and the Velocity S5418 Street Bop kit costs $299.99 USD.
More information: Sound Percussion Labs