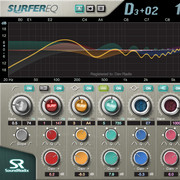 Sound Radix has updated its SurferEQ pitch tracking equalizer plug-in for Windows and Mac to version 1.0.2.
SurferEQ is an innovative, pitch tracking equalizer plug-in. It is capable of locking onto a vocal or an instrument pitch and adjust the EQ frequency to its fundamental pitch, or any of its harmonics thus "surfing" on the sound waves.

As it is always relevant to the sound source, SurferEQ is a tool like no other. It enables tone shaping in ways that were impossible to achieve previously by other tools.
Changes in SurferEQ V1.0.2
Optimized, significantly more efficient and smoother graphics engine.
Better compatibly and performance with older PC machines and integrated GPU's.
Mac OS 10.5.x (Leopard) compatibility.
Mac PPC compatibility.
Fixed an issue of Mac 64-bit Audio Unit and VST not showing up as such.
Extended time intervals between dropouts in the trial version for better demo experience.
*New* Factory Presets.
*New* 64-bit PC VST.
SurferEQ is available at an introductory price of $129 USD until January 1, 2012 (regular $179 USD). Users of Auto-Align can purchase SurferEQ for an introductory price of $99 USD.
More information: Sound Radix