Soundation Studio, the online music making application, has just added another tool to their growing arsenal, The Wub Machine.
With oscillators, analog style filters, LFO, pitch, shape and glide functions plus the all important MSL (make *hit loud) knob, The Wub Machine is an excellent choice for those looking to make massive bass lines for Dubstep/DnB/Grime style electronica music.

"Soundation Studio has significantly raised the bar for making music online and The Wub Machine sets a whole new standard for virtual instruments in your browser", says CEO Bil Bryant. "Now we have the quality, sound, functionality and look of a top notch VSTi directly available free in Soundation Studio" continues Bryant. "This is another step forward in the evolution of online music making, as we continue our mission to develop innovative tools and features for browser based music making," continues Bryant.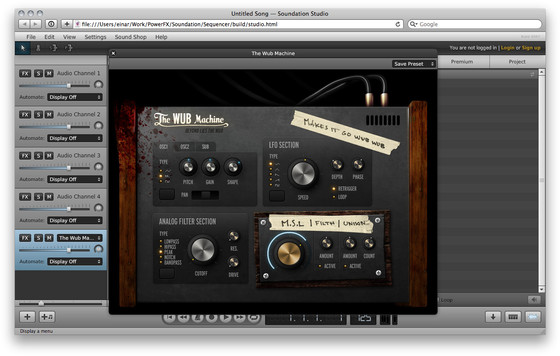 The Wub Machine features
The oscillator section has 2 oscillators with triangle, saw and square waves with Pitch, Gain, Glide and Shape knobs. Glide can be independently applied to each oscillator. There is a sub oscillator to add extra heft to the bass.
The LFO section includes 5 waveforms Depth, Phase and Speed knobs plus the option to retrigger on each new key hit and loop the LFO.
5 types of "analog style" filters including Lowpass, Highpass, Peak, Notch and Bandpass with knobs for Cutoff, Resonance and Drive.
Action Knobs: MSL for volume, Filth for nastiness and Unison to have more of everything.
More information: Soundation