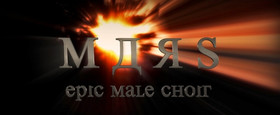 Soundiron has announced that its Mars – Epic Male Choir sample library for Kontakt is now available to pre-order.
We're pleased to formally announce our soon-to-be-released Mars Epic Male Slavonic & Latin Choir library. Mars features a full 30-voice male chorus as well as 3 soloists singing in both Slavonic (Russian Orthodox liturgical) and Latin. A wide variety of content is included for both languages, as well as a collection of choral effects (powerful shouts, sweeps, clusters, etc.).

We've included 2 masterfully mixed composite microphone positions (close/stage and far/hall), carefully blended from an array of 10 large diaphragm Neumann Microphones, arrayed in wide stereo pairs, ranging in distance from 1 meter to 25 meters. The two-composite position configuration allows the best balance between placement, flexibility and performance, while providing a truly massive, robust and full-bodied sound. With Mars, we are aiming for versatility. Instead of focusing on one language, we chose to go with a wide range of both Slavonic and Latin content so composers can add more flavor to their tracks. We spent 10 days in our favorite church recording an ensemble chorus from the San Francisco Choral Society, conducted by the esteemed meastro Robert Geary, capturing the nuances of the male human voice.
Mars – Epic Male Choir features
Well over 12,000 samples, over 15 GB content.
24 bit / 48kHz stereo PCM wav format.
Open format to allow user customization.
Format(s): Kontakt 4 .nki and pcm .wav.
Includes unique bonus collection of Ambiences, Drones, Textures and FX content, as well as a wide collection of new and classic custom convolution impulses integrated into every preset.
Mars – Epic Male Choir will be available for download on September 12, 2011, priced at $469 USD. You can pre-order the library for $369 USD until 12am Pacfic Time on September 12th.
All pre-orders will also receive a personal GOLDEN TICKET DISCOUNT for our upcoming second volume in our Planetary Series, the Venus Epic Women's Choir Library, coming this winter! Customers will receive an automatic $50 off when Venus pre-orders go on sale. They'll be able to use your private discount whenever you like, on top of any pre-order deal, bundle price or other sale discounts we may offer on it!
Soundiron has also announced its new multi-item discount code system, which allows up to 15% off on qualifying multi-item purchases and up to 30% off when used with our Drums, Piano, Experimental and Stringed Instrument bundles.
More information: Soundiron / Mars – Epic Male Choir