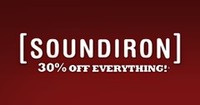 Soundiron has announced a limited time sale, offering a 30% discount on its sample libraries.
It's Thanksgiving again and time to pig out and carve 30% Off on nearly everything in our store, including all of our already-discounted bundles.* From now through Tuesday, November 27th, just purchase any two or more items and simply check out. No codes, no hassle. It's as easy as that. Click Here for more details.

You can grab Requiem Light for only $269 or our massive Olympus Symphonic Choral Collection for only $385! Check out our famous Emotional Piano for only $98 or the entire Piano & Keys Collection for only $245. And check out our brand new line of super-affordable bundles, including Metal, Bamboo, Stringed, Tuned Percussion, Micropaks Collection and many more at rock bottom once-in-a-year holiday pricing. We've also got a huge surprise to announce…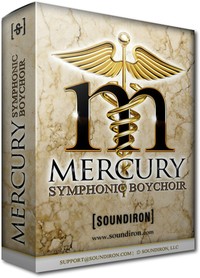 Soundiron has also announced Mercury Symphonic Boychoir, a children's choir sample library for Kontakt.
The brand new Mercury Symphonic Boychoir is quite simply the single most comprehensive, playable and powerfully sampled children's choir ever released.

This traditional English all-boy's choral ensemble features 42 staccatos & 42 sustaining marcatos both with 4x round-robin, 18 tempo-syncing Latin poly-syllabic sustains with phrase-synchronus polyphonic legato, unique poly-staccatos, dynamic true legato vowels with real-time speed control from fluid portamento to tight, drone and whispering chants, trills, sweeps, swells and other choral effects. You'll also find two exquisite soloists (soprano/younger and alto/older), each with a wide range of poly-syllabic phrases, staccatos and fluid true legato vowel sustain.
Mercury Symphonic Boychoir is available to pre-order for $349 USD (regular $399 USD). The library is scheduled to be released January 15th, 2013.
More information: Soundiron / Mercury Symphonic Boychoir