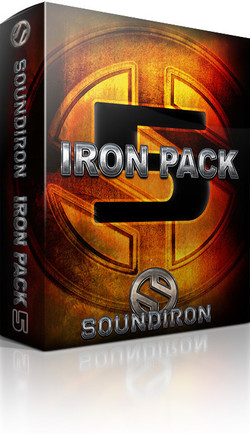 Soundiron has launched Iron Pack #5, a new micro-library series pack in Kontakt and sfz formats, that provides a sneak peek at a future library called Bassix: Baritone Guitar.
Iron PackIron Pack 05 features nine unique ambient pads and experimental tonal drones derived from multi-sample recordings of a six-string baritone guitar, tuned a whole octave below standard. The main three pluck presets range from clean to a crunchy sustain to a shredded overdrive. We've included our favorite controls in the Kontakt instruments, including "Edge" for extreme shaping and a "Wind" convolution reverb selector, with 5 great halls/rooms and 5 creative FX impulses.

You'll find regular unlocked nki presets for the full version of Kontakt 4.2.4 or later, as well as universal open source SFZ presets, if you don't own Kontakt. The SFZ presets can be used in the free Sforzando Player, as a plugin or stand-alone engine, just like Kontakt. It can also be used in the free Alchemy Player by Camel Audio! The SFZ presets offer great sound, control features and playability.
The pack is available for purchase for $2.99 USD until June 13th, 2014. Requires full version of Kontakt 4.2.4 or later or an SFZ 2.0 compatible engine.