Plugin Boutique has launched a flash sale on Soundiron, offering a 50% discount on selected Tuned Percussion instruments for Kontakt for a limited time.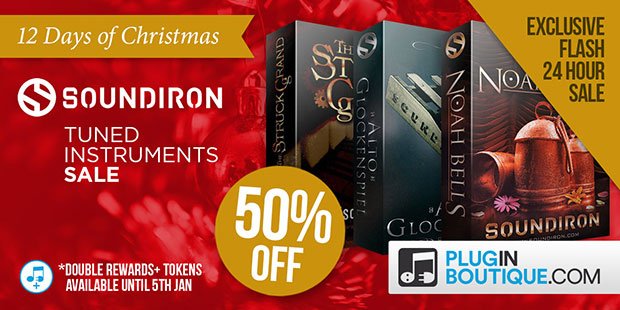 Save 50% off the Tuned Instruments range for Kontakt exclusively at Plugin Boutique for 24 hours only!
Soundiron Tuned Percussion Sale
Alto Glockenspiel – The Alto Glockenspiel is a tuned percussion library capturing a compact 25-key alto glockenspiel.
Noah Bells – The Noah Bells tuned percussion library is a deeply sampled collection of 21 authentic Indian Khadki bells in a ascending range of sizes and pitches, from resonant deep notes to brittle high notes.
Struck Grand Piano – The Struck Grand delves deep into the fine art of piano abuse. This 9 GB virtual prepared piano library explores unusual piano string articulations, including mallet strikes, finger mutes, plucks, steel slide bends, bass string scrapes, harmonics, metal hammer hits and other exotic playing methods.
The sale ends January 7th, 2017.
More information: Plugin Boutique / Soundiron