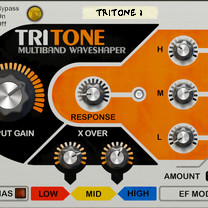 SoundMod has announced Tritone, a multi-band waveshaper Rack Extension effect for Reason.
Tritone architecture use multiband processing to create its rich tone. In simple terms, Tritone splits the incoming signal into three bands and process them individually thus allowing you to get full control over distorted signal.

With its architecture and its sets of controls, Tritone is suitable for any kind of audio material. It is good at adding dynamic movement, simply adding some character, completely transform shapes of the audio signal and give life to your track. Make it sounds warm or going nasty, the choice is yours.
Tritone features
1 Tube like preamp stage.
2 Points cossover (3 band).
1 Waveshaper per band.
11 Waveshaping algorithms.
1 Bandwidth limiter.
1 Envelope follower modulator with 2 target for each bands.
Anti-aliasing filters.
Great sets of CV inputs.
1 Stereo output per band.
Great sets of preset and combinator patches.
Tritone is available to purchase for the introductory price of 32 EUR / $39 USD until November 24th, 2013 (regular 39 EUR / $49 USD).
More information: SoundMod