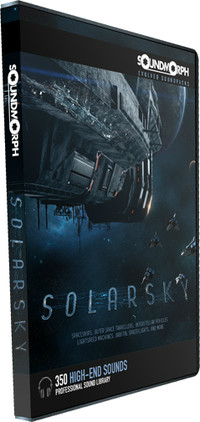 SoundMorph has announced Solar Sky, a sound fx sample library featuring a diverse set of state-of-the-art spaceship sounds.
Designed for use in any modern sci-fi production, Solar Sky is an essential addition to add to your workflow.

SoundMorph has teamed up with French sound designer Frederic Devanlay to create this new sonic universe. Frederic not only has an impressive background in AAA games and film sound design, but he also runs a well equipped studio (pictured below) where he helped carefully craft these sounds.

Designing sound for spaceships can be quite time consuming, and Solar Sky gives you a great set of sounds to get started.
Solar Sky features
2.2GB of 350 24bit/96kHz files.
Includes Ship ambiances and drones, 120+ Ship passbys, both large and small, Ship power ups, Ship power downs, Ship door opens and closes, Wave Warped passbys.
Embedded with Soundminer and Basehead metadata.
The sound library is available to pre-order for $55 USD (20% off regular $69 USD). Solar Sky will ship September 4th, 2013.
More information: SoundMorph / Solar Sky