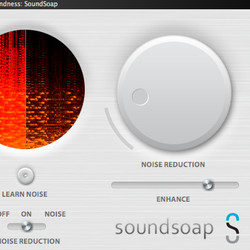 Soundness has launched SoundSoap 3, the noise reduction software previously sold by BIAS.
SoundSoap 3 solves audio noise problems like unwanted hiss and background noises, clicks, pops, crackles, electrical hum, and rumble. SoundSoap is used by hundreds of thousands of consumers and professionals worldwide to create stunning audio for their video and audio projects.

This new version of the venerable SoundSoap software adds new features, a new user interface, and 64-bit compatibility.
Changes in SoundSoap 3
Compatible with both 32-bit and 64-bit hosts.
New user interface, including an improved high-resolution Wash Window.
Improved Learn Noise feature that allows learning from any length portion of the media, for as long as the Learn Noise button is pressed. Earlier versions of SoundSoap required 2-3 seconds of isolated material to use the Learn Noise feature.
The standalone SoundSoap 3 application now features audio recording.
After media files have been cleaned with SoundSoap, they can now be shared with one click directly to Facebook, Email, Messaging, AirDrop, and more.
SoundSoap 3 for Mac (Standalone/AU/VST) is available to purchase for $149 USD. Previous owners of BIAS SoundSoap can upgrade to SoundSoap 3 for $49 USD.
More information: Soundness