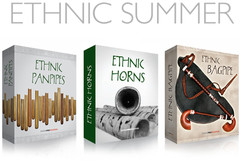 Soundprovocation has announced Ethnic Summer, a limited time offer on its virtual ethnic instruments.
Now you can get all three Ethnic instruments (Ethnic Bagpipe, Ethnic Panpipes, Ethnic Horns) for the price of two.

Good news for existing customers: anyone, who has already purchased two "Ethnic" instruments for the full price, will get the third for free!
The Ethnic Summer offer is valid until June 30, 2011.
More information: Soundprovocation