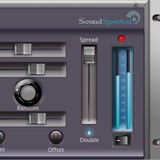 Soundspectral has released version 2.0 of ChoirsX, a choir generator/voice multiplier effect plug-in for Windows.
ChoirsX turns a single voice into 8, or 14 unison voices, with its own pitch, timing and vibrato variations. The voices can be spread out across the stereo field.

Its included randomizing feature analyzes the audio input in real-time and modulating pitch, speed and vibratio of the incoming signal. By using the random knob the user can adjust its wanted amount.

Choir Generator — play your vocal recording through ChoirsX and turn the voices into a small or huge choir !!!

Or assign one ChoirsX to each of your, two, three, or more vocal tracks and you will get an instant choir, with a lot of control.
ChoirsX 2.0 is available to purchase as a VST effect plug-in for Windows PC, priced at $49 USD / 36 EUR / £32 GBP. The version 2.0 update will be available for free for all customers of ChoirsX.
More information: Soundspectal