Plugin Boutique has launched a limited time sale on the SoundSpot MSW1 stereo imaging effect plugin for Windows and Mac.
MSW1 aims to be a quick and easy tool for smooth efficient stereo imaging.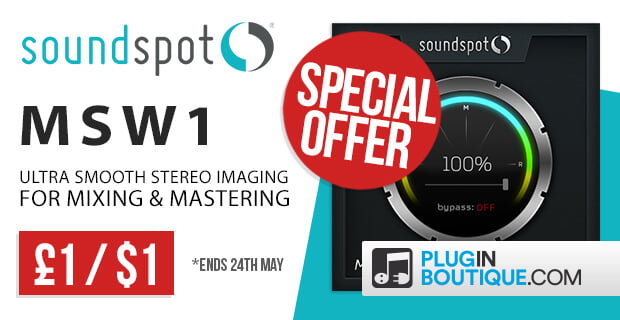 A well balanced stereo image is essential in any mix. It can be a challenge however, to assign the proper amount of space to all individual elements in your mix without stressing your CPU, or to smoothly automate the entire stereo image during mastering.

We designed MSW1 to be an ultra light tool for quickly narrowing or widening any stereo track, with just one control. It is extremely well suited for automation purposes, because the main control, as well as the bypass function, is smoothed out to prevent any clicks or pops when changing settings fast.
The MSW1 plugin is available for Windows and Mac (VST/AU/AAX), priced at only £1 GBP / $1 USD until May 24th, 2018.
More information: SoundSpot MSW1