SoundToys has announced it is now officially supporting Pro Tools 11 for Mac with native AAX 64 versions of its plug-ins.
We are very proud to announce this new version FREE for registered users. It took a lot of work, and a lot of our time to recode our plug-ins for the new AAX 64 Native format and Pro Tools 11. We appreciate your patience, and thank you for your support along the way. So without further ado…

The SoundToys Effects and Boutique plug-ins now include full AAX Native support for Pro Tools 11 on the Mac.

The new installers are available for download from your SoundToys account now for the full line of real-time native plug-ins. (and there was much rejoicing. NO reallly, we are totally rejoicing)

Windows Native AAX 64-bit plug-ins are in development, though no release date is set. Speed is a non-realtime plug-in for Avid's AudioSuite processing, and is also still in development.

Avid has not yet certified OS 10.9 Mavericks, so this release covers only OS 10.8.3 Mountain Lion.
SoundToys has also released updated Audio Units for the new Mavericks Mac OS X operating system.
This update also includes full support for Audio Units on Mac OS X Mavericks. This applies to all SoundToys real-time native plug-ins, and is free for all registered users in their SoundToys account.

This update features Mavericks compatible Audio Units versions for the native SoundToys Effects plug-in line (v4.3.1), as well as the full Boutique Series (v1.3.1), and all forth-coming plug-ins. Compatible hosts on Mavericks include Logic, Live, and Digital Performer.
Speed is a non-realtime plug-in for the Pitch & Time Machine in Logic only, and is still in development. No other Audio Unit hosts support this type of plug-in at this time.
Additionally, SoundToys has announced it is offering its Devil-Loc Deluxe audio level destroyer plug-in at a 60% discount in its Halloween Special promotion.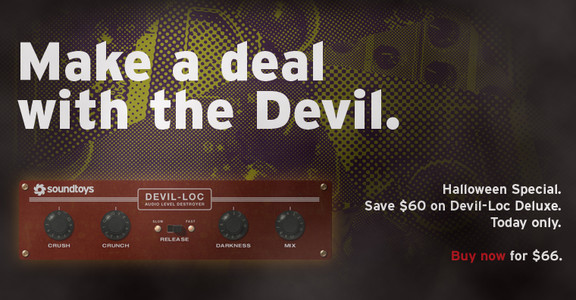 This offer is valid today only (October 31st, 2013).
More information: SoundToys