Source Audio has announced the release of the Spectrum Intelligent Filter, a new pedal that not only features finely crafted envelope filter effects inspired by some of the most iconic and sought-after effects pedals on the market, it also includes buzzing, synth-like presets that combine elements of octave, distortion, and complex filtering.
"We have already created many legendary filter pedals," said Source Audio President Roger Smith. "I told Bob Chidlaw I wanted the undisputed greatest stereo filter pedal of all time. He not only did that with Spectrum, but he included up and down octaves, drives, and LFO to create an all-in-one filter extravaganza that is appropriate for all types of players."
Out of the box, the Spectrum offers six outstanding envelope sounds. On the vintage side, the Spectrum features some highly dynamic filters inspired by classic pedals like the Mu-Tron and the discontinued Lovetone Meatball, which sell at astronomic prices on the used market. On the contemporary side, the Spectrum offers multiple, totally unique synth-like effects that incorporate phaser-filtering, distortion, and the pedal's OC-2 style octave effects.
The Spectrum's top control panel offers access to a total of six envelope filter presets via its three-position toggle switch and two preset banks. Four dual function knobs provide control of eight adjustable parameters: Input Level, Envelope Sensitivity, Filter Depth, Wet/Dry Mix, Frequency, Resonance (a.k.a. "Q"), Envelope Speed, and Output Volume. The pedal also includes powerful 56-bit signal processing, a compact anodized aluminum housing, stereo inputs and outputs, and a mini USB port that receives MIDI messages from DAW (digital audio workstation) software as well as external MIDI controllers with USB host support. The Spectrum can also engage any of its 128 presets via MIDI CC messages when connected to the Neuro Hub (also made by Source Audio).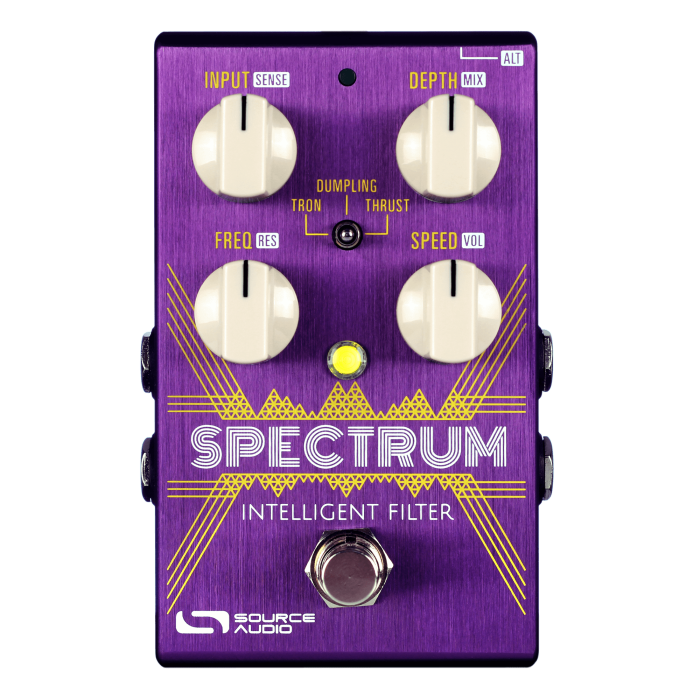 For those looking beyond the six onboard effects, the Neuro Desktop Editor (a free download for Mac and Windows) and Neuro Mobile App (free for iPhone and Android) offer a diverse library of presets created by the Source Audio team as well as the ever-growing Spectrum Intelligent Filter Neuro community. Burning presets to the Spectrum is a straightforward process. The Spectrum connects to the Neuro Editor via the pedal's mini USB port or to the Neuro Mobile App via the phone's headphone jack (or headphone adapter) and Input 2 on the pedal. Once connected, musicians can easily browse and audition the vast collection of User Presets. Favorite presets can be saved with a single click to one of Spectrum's six toggle switch positions or 128 MIDI accessible positions. It's a fun process that allows users to create the perfect envelope filter pedal to suit their needs.
For those who wish to explore the deep editing abilities of the Spectrum, the Neuro Desktop Editor and Neuro Mobile App offer a comprehensive set of additional sound sculpting tools. The Sound Editor includes 29 different filter options (and the possibility to run two filters simultaneously), dual octave voices (one octave up and up to two octaves down), ten-plus envelope followers, distortion, LFO modulation with 14 different LFO wave shapes, alternate knob assignment, multiple signal routing options, external tap tempo, and external expression control. Newly created presets can be uploaded directly to the pedal, saved in a private preset library, or published to the Cloud and made available to anybody in the Neuro/Spectrum Intelligent Filter community.
The Spectrum Intelligent Filter is available for purchase for $199 USD.
More information: Source Audio