Source Audio has released the L.A. Lady Overdrive, Kingmaker Fuzz, and AfterShock Bass Distortion, the latest additions to the One Series line of effects pedals.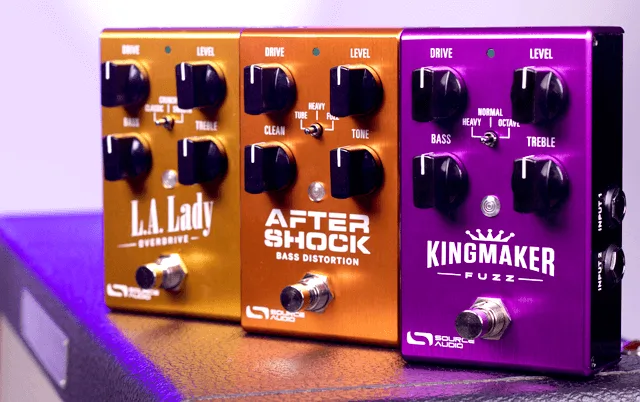 All three pedals feature a compact housing and the straight-forward control surface of a traditional stompbox, but inside live and breathe the archetypal tones of over 50 years of overdrive and fuzz technology. Out of the box the L.A. Lady, Kingmaker, and AfterShock include four control knobs and a center toggle switch that selects between three overdrive, fuzz, or distortion engines, but connecting these pedals to the Neuro Mobile App (a free download for iOS and Android) opens a far deeper level of control and flexibility. The Neuro App allows users to access Source Audio's library of over 40 drive engines, with extended EQ, mix, and noise gate control as well as alternate routing options. "Our industry has been wondering which pedal company could pull off the first rack-quality digital distortion in pedal format," says Source Audio president, Roger Smith. "With the Kingmaker, L.A. Lady and AfterShock, we are not only delivering the quality, but deep editing, and a vast sound library too. These pedals are completely unprecedented! "

Before connecting to the Neuro Mobile App, each pedal comes equipped with three modes of overdrive, fuzz, or distortion. The L.A. Lady delivers a diverse set of warm and powerful overdrive engines that cover the all the territory between smooth low-gain tones and cutting lead tones. The Kingmaker Fuzz includes two highly saturated and articulate fuzz tones for violin-like lead sounds with unending sustain, as well as thick and pummeling rhythm tones. The Kingmaker's Octave engine unleashes a screaming octave fuzz in the style of vintage Octavio pedals. The AfterShock Bass Distortion packs three bass overdrive engines that span the gamut of low-end crunch, from smooth and organic overdrive to full-on fuzz attack.

The L.A. Lady, Kingmaker Fuzz, and AfterShock Bass Distortion deliver outstanding tonal range out of the gate, but dig a little deeper and discover the hidden power and flexibility of these groundbreaking effects pedals. Every pedal in the One Series line is compatible with the Neuro Mobile App. The Neuro App provides access each pedal's extended equalization capabilities, noise gate control, and routing options. Dual drive engines and stereo inputs and outputs make it possible to internally stack any combination of drives in series or parallel as well as split the signal and send a separate drive engine to each of the pedal's outputs. The App also includes Source Audio's free library of over 40 overdrive, fuzz, and distortion engines. Each engine can be downloaded directly to any of the pedal's six toggle switch positions. Plus, every One Series pedal is fully MIDI compatible when coupled with the Neuro Hub (formerly Soundblox Hub), providing the ability to save up to 128 different presets.

The Neuro Mobile App also allows users to save presets in a personal library, or share presets with other Neuro users by posting them publicly to the Neuro App. With the entire One Series line, Neuro users are building an ever-expanding effect library of overdrive, fuzz, tremolo, modulation and delay presets.
All three pedals are available now and retail for $209 USD ($149 USD street cost).
More information: Source Audio