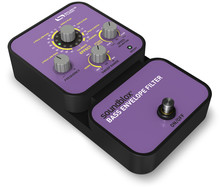 Source Audio has announced that the Soundblox Bass Envelope Filter effect pedal is now available is select stores.
In accordance with Source Audio tradition, the BEF offers incredible variety, stellar sound, and superior control. This pedal houses 21 dramatically different filter types in a wide range of categories including 2 Pole Low Pass, 4 Pole Low Pass, Single Peak, Triple Peak, Peak & Notch, and Phaser. Sound quality was of the utmost importance in the making of this pedal, and it stands apart from other envelope filters is its powerful ability to maintain a commanding bottom end while still delivering an unbelievably vivid envelope effect. And finally there's control—the easy-to-use interface gives you tremendous control of each filter's center frequency, the depth and direction of the filter sweep as well as the speed of each envelope's attack and decay

We really put a lot of work and research into this pedal so you can be sure it will stand up to the harshest critic. We know the pros dig it, the pedal has already found its way onto the pedal boards of Mike Gordon from Phish, Jai Dillon from the Jason Mraz band and Kevin Walker, the bass player for both Prince and Justin Timberlake!
Soundblox Bass Envelope Filter features
21 Filter Sounds including 2 Pole Low Pass, 4 Pole Low Pass, Single Peak, Triple Peak, Peak and Notch and Phasers.
Positive and Negative filter sweep with variable range and sensitivity.
Dual range speed control allows equal adjustment of Attack and Decay speeds, or alternatively, a fixed, fast attack and adjustable Decay.
Modern Design — a thoughtfully designed box that features rugged construction and sleek looks.
State-of-the-art DSP — proprietary 56-bit Digital Signal Processor, the SA601 and crystal clear 24-bit converters.
Motion Control — all Soundblox™ pedals are "Hot Hand® Ready" and can be used with any Hot Hand motion sensor to extend the capabilities of the unit.
Active Analog Bypass — bypass is fully routed around the DSP and active input ensures zero signal degradation.
Dimensions: 7 in/17.8cm (length not including 1/O jacks) x 4 in/10.2 cm (width) x 2 in/5cm (height, including knobs).
Note: Power supply not included.
The Soundblox Bass Envelope Filter is available to purchase for $119 USD.
More information: Source Audio