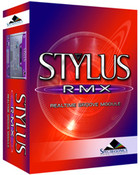 Spectrasonics has released version 1.9.0e of Stylus RMX, the company´s first 64-bit native Mac software.
The new version of the award-winning groove software is now compatible with Apple´s recently released ´Snow Leopard´ 64 bit operating system and the emerging 64-bit native host applications for music production on the OSX platform.

Since native Windows 64-bit compatibility has been available since version 1.7, Stylus RMX is now fully cross-platform 64-bit native software and is also compatible with 32-bit Mac and Windows systems and hosts. The new 1.9 version also includes various technical fixes and compatibility updates with other recent software releases such as Apple´s Logic 9.
Changes in Stylus RMX v1.9.0e
Requirements — This version requires a minimum of OSX 10.5 on the Mac. When using the Audio Unit, your host must be capable of supporting Cocoa plugins.
Logic 9 compatibility — This version provides compatibility with Logic 9, including a fix for the crash when typing in a tempo into Logic's transport window. Also, this version supports the new feature in Logic9 where parameter names are displayed in Logic9's automation menu (finally!).
OSX 10.6 compatibility — Fixes AU Validation problem in 10.6.
Host Sync Improvements — Fixes a problem where the first beat would be missing when working with slow tempos or large audio buffer sizes.
Mac 64 bit support — This version includes 64 bit support on the Mac. At the moment, the only 64 bit host on the Mac is AULab 2.0.1, but expect more shortly.
Stylus RMX v1.9 is a free download for all registered users of Stylus RMX and is available now from the Spectrasonics website.
More information: Spectrasonics / Stylus RMX