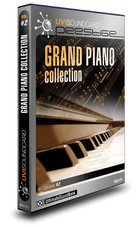 Ultimate Sound Bank has announced the release of Grand Piano Collection, a bundle of 5 sampled piano instruments.
"In the maze of piano sample libraries, Grand Piano Collection has a very unique place: the UVI philosophy regarding pianos is to propose truly musical and excellent sounding presets, but with a convenient and "realistic" size (around 20 GB for 5 instruments). It's also the most versatile library, thanks to the choice of very different sounding instruments..", said Alain Etchart, Founder and Director of Marketing at Univers Sons / Ultimate Sound Bank.

"Grand Piano Collection features surely some of the best sounding sampled pianos in the market. True to our beliefs, we don't think it's about figures (like velocity, memory, number of microphones) but about feeling. A good sounding piano is a rare alchemy between the instrument, the acoustic in the recording studio, the microphones and above all, the engineer's taste. These pianos are not our first endeavour, in fact we did sample many more, so we had the chance to see the expertise turn up."
Grand Piano Collection features
Steinway D Concert Grand
Fazioli F278 Concert
Erard Baby Grand Piano
Seiler Upright Grand
Japanese Upright
Grand Piano Collection is now available for PC and Mac for $249 USD (includes the full version of UVI Workstation).
More information: UVI