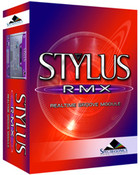 Spectrasonics has released version 1.9.2d of Stylus RMX, a realtime groove module for Windows and Mac.
Stylus RMX is the first product to offer the combined power of Groove Control™ with Spectrasonics Advanced Groove Engine (S.A.G.E.™) technology giving users dramatic new control over groove production and performance.
Fixed in Stylus RMX v1.9.2d
Prompt for SAGE folder when the alias present would not work.
Problems with power filter and flame effect.
Kit mode not working in some cases in 64 bit version on Mac.
Knob mode was incorrectly set to circular on Pro Tools.
Ctrl-click on Mac not emulating right-click.
NOTE: This version requires a minimum of Mac OS X 10.5 on the Mac. When using the Audio Unit, your host must be capable of supporting Cocoa plug-ins.
More information: Spectrasonics / Stylus RMX