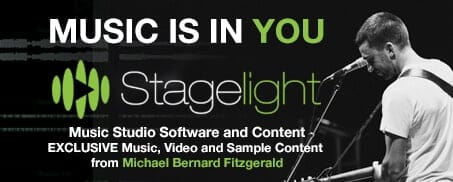 Open Labs has partnered with BitTorrent Bundle and artist Michael Bernard Fitzgerald to offer an expansive bundle of music creation software, including drum kit and audio loop samples, songs, and an exclusive first look at Michael's new video for his song "I Want To Make It With You."
"This free offering puts music creation in the hands of anyone, with any interest, at any skill level, said Nicholas O'Toole, Director Business Development of Open Labs. "Michael Bernard Fitzgerald worked with us to create a unique collection of drum and percussion samples using only his vintage 1960 Gibson B25 guitar. His out-of-the-box thinking is why we love working with him. BitTorrent's commitment to delivering quality content, and their support of our vision to bring music education, accessibility and inspiration to the masses made them the obvious partner for this project."

Music Creation – Included free in this bundle is Stagelight for Windows and Android devices. Anyone who downloads the bundle can claim the Michael Bernard Fitzgerald Hybrid Acoustic Soundpack in the in-app store. This collection includes:

Three Drum Kits
Over 80 unique percussive royalty free loops
Demo song inside the Stagelight app

Music Education – Stagelight provides in-app lessons covering a variety of music creation topics so anyone can get started making music within minutes. Stagelight is committed to empowering users to expand their own horizons, and even create lessons of their own to share.

Music Community – This bundle marks the very first time Michael Bernard Fitzgerald is offering music to the world for free. Michael is working with Open Labs and BitTorrent as part of an effort to pioneer new avenues for artists to interact within a community and share music with people around the world.
This offering is available now for download exclusively by Bittorrent Bundle.
More information: Open Labs / BitTorrent Bundle