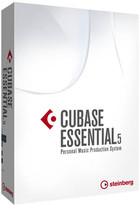 Steinberg has announced Cubase Essential 5, the latest version of its personal music production system for Windows and Mac.
Providing an easy, intuitive approach to composing, recording, editing and mixing, Cubase Essential 5 is the smallest full version of the latest Cubase music production systems.

Cubase Essential 5 shines with the same user interface as its elder sibling Cubase 5 as well as the award-winning Steinberg Audio Engine heralded by countless professionals the world over.

Cubase Essential 5 combines premium virtual instruments, outstanding audio and MIDI VST effects with a vast range of proven editing and sequencing tools while being extremely easy to use.
New in Cubase Essential 5
On-the-fly Pitch Correction – The new PitchCorrect VST3 plug-in brings easy and automatic intonation control and scale correction of vocal and monophonic instrument recordings to Cubase Essential 5.
Designer Beats and Grooves – Beat Designer is the hot new beat construction plug-in that really allows getting hands-on with beats for step programming and designing drum patterns in an easy yet powerful way!
More Sounds for More Music – Cubase Essential 5 comes with a new exceptional polyphonic subtractive synthesizer, 240 additional premium instrument sounds for HALion ONE and a new autopanning effect.
Enhanced MIDI – Featuring numerous enhanced MIDI features, Cubase Essential 5 now includes MIDI loop support, redesigned MIDI effect plug-ins and improved MIDI automation.
Smoother Workflow – Cubase Essential 5 also comes with a range of additional new ways of working faster, with added performance and redesigned and enhanced features.
Cubase Essential 5 will be shipping to European dealers and international Steinberg distributors, so availability may vary regionally. Cubase Essential 5 may also be purchased through the Steinberg online stores. It has a MSRP of 149 EUR / £124 GBP.
More information: Steinberg