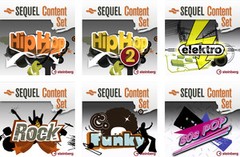 Steinberg has announced a special offer on Sequel Content Set bundles when purchasing one of Steinberg's latest USB interfaces, CI1.
Two bundles are offered, each comprising three of the most popular Sequel Content Sets. The first bundle features HipHop, HipHop 2 and Elektro, whereas the second comes with Rock, Funky and '80s Pop. When registering the newly purchased CI1 interface, the buyer can select one of the two bundles on offer. Each bundle costs EUR 22.35 (includes 19% VAT) which is a saving of 50% off the regular retail price.

CI1 provides two high-quality microphone and line channels, comprising balanced XLR/TRS combo connectors with microphone preamps, phantom power and dedicated high-impedance switching on the first input channel for direct electric guitar or bass input. CI1's software bundle consists of two light editions: Sequel LE and WaveLab LE 7. Sequel LE is designed for first-time computer music enthusiasts looking to record their music with ease, whereas WaveLab LE 7 provides audio editing, mastering and full internet audio publishing features.
The first bundle on offer features the popular HipHop, HipHop 2 and Elektro Sequel Content Sets. Together, these three sets include more than 600 quality audio loops, providing almost 900 MB of content for productions ranging from rap to trance.

The Rock, Funky and '80s Pop Sequel Content Sets make up the second bundle which boasts more than 1,000 audio loops ideal for producing punk, rock, wave and everything in between.
"Owing to the release of our CI1 interface, we came up with the idea to run a special offer on our most popular Sequel Content Sets," comments Stefan Schreiber, Steinberg's product marketing manager for hardware. "This is a great way of complementing the hardware's included light edition of Sequel," Schreiber adds.
More information: Steinberg