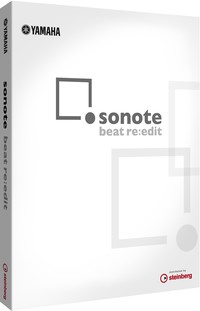 Steinberg has announced the upcoming release of Sonote beat re:edit, the ideal beat instrument plug-in for Steinberg's recently announced Cubase 7 and Cubase Artist 7 music production systems.
"For all Cubase users who're into meddling with beats, sonote beat re:edit is a unique approach to making new grooves from your content," remarked Matthias Quellmann, product marketing manager at Steinberg.

Based on Yamaha's renowned sonote technology, sonote beat re:edit extracts beat slices within an audio loop and replaces them with similar sounds. Analyzing the transients of individual waveforms, sonote beat re:edit defines and categorizes fragments — so-called sonotes — in dedicated databases based on parameters, such as loudness, attack and frequency. This allows sonote quickly to exchange fragments with comparable audio material and generate new rhythmical content.

Exclusively compatible with Cubase 7 and Cubase Artist 7, sonote beat re:edit perfectly integrates into the Cubase environment, allowing for drag-and-drop of audio events from and to the Project window and MediaBay.

sonote beat re:edit includes a factory library with three databases of acoustic, electronic and standard beats and additional VST presets of rhythmical phrases.
sonote beat re:edit features
Exchange the sounds of your beat with sounds of your own music.
Create your own sonote database out of your favorite sounds and tracks.
Seamless import and export of audio material from and to Cubase.
MIDI support to control virtually all parameters via external devices.
Out-of-the-box factory library.
Available as download for Windows and Mac OS X Intel.
Sonote beat re:edit will be available in December exclusively as download through the Steinberg Online Shop, with a retail price of 49.99 EUR including German VAT.
More information: Steinberg / Sonote beat re:edit