Steinberg has announced the release of Dorico 3, the latest version of its professional scoring software.
Every feature in the new version is designed to help musicians complete their work faster, so that they can spend less time in front of their computers, and more time making music. The headline improvement in Dorico Pro 3 is the ability to produce a condensed conductor's score automatically.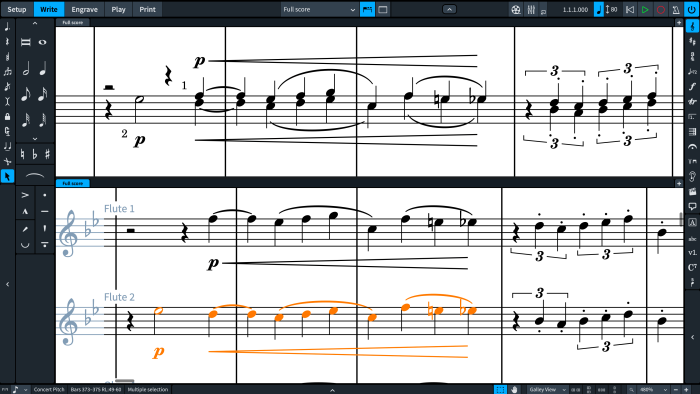 In a condensed score, music for multiple players — for example, two flutes or four horns — is written on a smaller number of staves, reducing the number of staves that must be included, allowing each staff to be larger relative to the page, and making the score easier to read.
However, in existing music notation software, the process of producing a condensed score is extremely laborious, and always involves maintaining a separate document from which the individual instrumental parts are printed, meaning that editorial changes need to be made in two or more places.
Producing a correct and clear condensed score has always relied on the judgement of an experienced human editor. With deadlines ever shorter, and budgets ever tighter, the cost in time and money of producing a condensed score is simply too great for many projects.
Dorico Pro 3 changes all this at a stroke: now users can input the music for each player and click a single button to automatically produce a condensed conductor's score. Dorico decides how to write the music as clearly as possible, with the flexibility to change the condensation from phrase to phrase and from system to system.
The increase in productivity that this represents is comparable to other generational strides made by music notation software, such as dynamically linked instrumental parts and comprehensive collision avoidance. No other music notation software offers anything like this — only Dorico Pro 3 combines all of these technologies into a single, comprehensive package for score and part preparation.
Dorico 3 also introduces tablature for fretted instruments, and greatly expands its capabilities in guitar notation.
Dorico is the only professional music notation software where notation and tablature are dynamically linked, so that edits made in one representation are automatically reflected in the other. You can edit the number of strings, number of frets, and even the fret spacing for any fretted instrument, allowing Dorico to handle writing tab for unusual instruments like banjo and dulcimer with ease.
Common guitar notations such as bends, slides, and harmonics are all included and are easy to input and use. Dorico 3 also brings chord diagrams for guitar and other fretted instruments, with a library of common shapes and an editor to quickly and easily define one's own chords.
For classical guitar, Dorico 3 introduces comprehensive support for left- and right-hand fingering and string indicators.
Guitar music is challenging to lay out because of the density of annotations on every side of each note and chord, but Dorico 3 handles all of this automatically, producing layouts that closely match the most refined traditional engraving, and saving an enormous amount of time.
All of these guitar-focused features are included in both Dorico Pro 3 and in the entry-level Dorico Elements 3, putting comprehensive support for tablature and guitar notation into a well-rounded package for the guitarist who also wants to write for other instruments.
Other new features and capabilities in Dorico 3 include:
Comprehensive support for harp pedal changes, including automatic calculation of harp pedal diagrams, displaying partial diagrams, and even marking notes that cannot be played with the current pedal settings.
Customizable playback templates, making it easy to configure Dorico to use one's own virtual instruments and reuse those settings in future projects.
New editors in Play mode for note velocity and pitch bend.
Independent routing of individual voices on an instrument to different channels or even completely different devices, bringing much greater flexibility in how music can sound.
Olympus Choir Micro choral samples from leading virtual instrument developer Soundiron, who have brought their beautiful vocal sounds to the HALion platform.
Users can leave reminders for themselves or for collaborators using the new Comments panel, easily reply to existing comments and export a formatted list for proof-reading.
Group playing techniques together and show arrows or other lines to indicate a gradual transition from one technique to another.
Show bar numbers at multiple vertical positions in the system.
Easily control where chord symbols should appear for solo passages.
Automatic notation of natural and artificial harmonics for guitar and string instruments.
There are dozens of further improvements across the application, spanning playback, engraving, note input, workflow, and many refinements to the user interface.
Product Marketing Manager for Dorico, Daniel Spreadbury, said:
"The release of Dorico 3 represents a significant milestone in the evolution not only of Dorico but also of music notation software in general. Being able to produce a condensed conductor's score at the click of a button will profoundly change the workflow of composers, arrangers and editors who write for large ensembles, and together with the hundreds of other improvements throughout the application, Dorico 3 will save time for every musician."
Dorico Pro 3 is available for a suggested retail price of 579 EUR for the boxed version. The download version is 559 EUR. Students and teachers can purchase Dorico Pro 3 at the discounted suggested retail price of 359 EUR and users of Finale and Sibelius can crossgrade for 299 EUR (box) or 279 EUR (download). A further educational discount is available for students and teachers.
The suggested retail price for Dorico Elements 3 is 99.99 EUR. All prices including German VAT.
Various downloadable updates and upgrades, crossgrades, and education versions are exclusively available through the Steinberg Online Shop and the Steinberg website. Customers who have activated Dorico 2 editions and earlier versions on or after August 8, 2019, are eligible for a free, downloadable Grace Period update to the latest respective version.
More information: Steinberg