Yamaha has announced that the Nuendo Live DAW software by Steinberg is being bundled with Yamaha QL and TF series consoles, providing users with advanced multitrack recording and virtual soundcheck capabilities.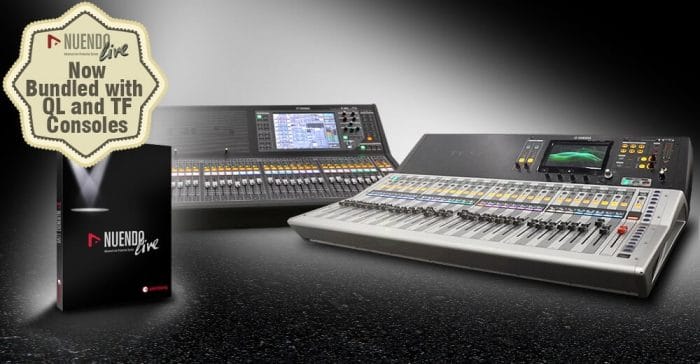 Previously available only stand alone, or included with the company's CL series digital mixing consoles, Nuendo Live is now integrated across all three console series, thanks to a collaboration between Yamaha and Steinberg, a member of the Yamaha group.

Nuendo Live multitrack recording software is ideal for use in live sound applications – from club gigs, to hall concerts and festivals. It offers ease of operation in busy live sound situations, high reliability, and a comprehensive range of features that add up to professional performance and efficiency. Direct control of channel names, markers, and transport operation from QL series consoles contributes to tight integration between DAW and console in a streamlined live recording system (TF consoles require a PC for Nuendo control).

Nuendo Live is the perfect complement to Yamaha QL series digital mixing consoles, which feature high input and output capacity for a wide range of applications. Built-in Dante connectivity provides effortless networking between QL consoles, CL series consoles and R series I/O racks.

Similarly, Nuendo Live brings greater power and system flexibility to the TF series (which stands for TouchFlow Operation™). The series comprises three compact, performance-packed digital mixing consoles – TF5, TF3 and TF1 – which feature 33-, 25- and 17-motor faders, respectively, along with 32, 24 and 16 rear-panel analog inputs. Each console includes recallable Yamaha D-PRE™ preamplifiers for the first time in a digital console, which facilitates support for live music and events where full setup changes need to be made on the fly. Nuendo Live will replace the Cubase AI software previously bundled with TF series consoles.

In addition to the advanced multitrack recording and virtual soundcheck capabilities that this powerful combination of hardware and software provides, users will be able to seamlessly move Nuendo Live project files from system to system, allowing easy soundchecks in a wider variety of environments.

"Nuendo Live is an incredibly streamlined recording package that provides tight integration with the Yamaha TF, QL and CL console series," said Marc Lopez, marketing manager, Pro Audio, Yamaha Corporation of America. "This fruitful collaboration between Steinberg and Yamaha has created an unbeatable and unified package that raises the bar in live sound reinforcement."
The Nuendo Live bundle for Yamaha QL and TF series consoles will be available in April, 2016.
More information: Yamaha Pro Audio / Nuendo Live