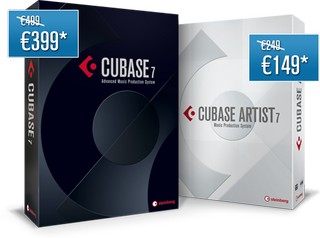 Steinberg has announced a time-limited upgrade offer for its Cubase 7 and Cubase Artist 7, offering up to 40% discount on its flagship DAW.
Steinberg is happy to introduce a time-limited upgrade offer for users of earlier Cubase versions or users of entry-level editions of Steinberg's popular DAW as well as Sequel*. From now until August 31, 2013, you have the chance to upgrade to Cubase 7 or Cubase Artist 7 at an irresistable price — and benefit from new and enhanced tools that are used by star producers and musicians around the world.

Highlights of the latest Cubase generation include the new MixConsle with integrated EQ/dynamics channel strip modules for epic pro-console sound and the innovative chord track for intelligent composing assistance. Plus, Cubase and Cubase Artist both feature eight superior instruments such as the Padshop granular synth, the Retrologue virtual analog synth and the Groove Agent ONE drum machine.
The upgrade promotion ends August 31st, 2013.
More information: Steinberg