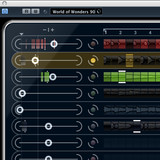 Steinberg has released version 5.5 of Cubase / Cubase Studio, a free update of its music production systems featuring new mixing features, new video engine, instrument updates, workflow improvements and optimized performance for multi-core processors.
The 5.5 update ensures an improved low-latency performance on systems with four or more CPU cores, while the included version increments of two Cubase 5 features, LoopMash and the REVerence convolution reverb, reduce CPU usage considerably. The native x64 version of Cubase and Cubase Studio features an enhanced VST Bridge to improve compatibility with the majority of bridged 32-bit VST2.4 plug-ins within a native 64-bit production environment.

Enhancements for both mixing and video work have been realized with additional automation functionality in the automation panel as well as expanding the Quick Control system to Group, FX, Input and Output channels. An entirely new video engine offers full HD support in Cubase 5.5 as well as scalable performance and video playback capability via FireWire for the PC platform.

Version 5.5 also introduces enhancements to the range of onboard beat production, witnessing refinements in hitpoint detection within the Sample Editor, the introduction of a local timeline for the AudioWarp definition mode plus extended Export/Import functionality for Groove Agent ONE including 19 exclusive new drum kits made up of over 800 finest vintage drum machine samples.

To further speed up workflow in the Cubase environment, the MediaBay interface has been redesigned to provide improved usability, with an integrated virtual keyboard and memo recorder. On top of the many small enhancements, the Channel Batch Export tool has been improved, and the Infoline and the toolbars of all editors have been consolidated for improved legibility and faster access.

Cubase 5.5 complements Cubase 5 and Cubase Studio 5 to the fullest, delivering performance optimization, additional features and useful enhancements throughout.
The 5.5 update is now available to download from the Steinberg website at www.steinberg.net.