Steinberg has announced the release of Granular Guitars, the second signature expansion pack exclusively for the Padshop and Padshop Pro granular synthesizers, created by composer and designer Simon Stockhausen.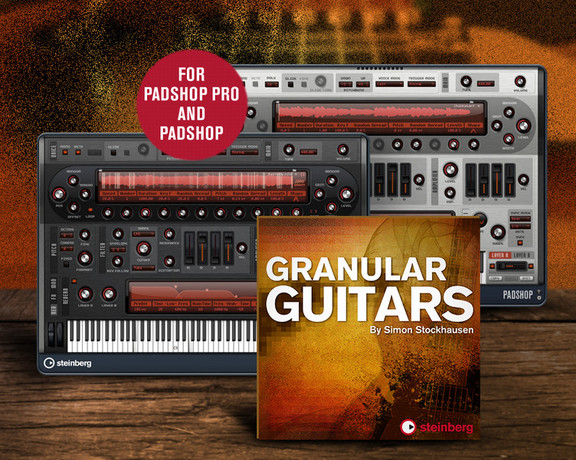 Granular Guitars is an expansion pack that holds 260 presets new to Padshop Pro and Padshop based on nearly three gigabytes of samples covering various acoustic and electric guitars as well as the more exotic instruments such as psaltery, celtic harp and oud. The presets offer an array of cinematic soundscapes, distorted guitars, inspiring textures and much more.

Star sound designer Simon Stockhausen commented: "My love for guitars and other plucked or bowed string instruments is manifested in the sound library of Granular Guitars. During the several months that I worked on this set, I thoroughly investigated this family of musical instruments. Using known playing techniques but also coming up with completely new ones, I created samples and presets to provide the granular guitarist with a wide range of playable, expressive and fascinating sounds."

"I used to be a keyboardist and saxophonist who also wanted to play guitar, and with my work on Granular Guitars, this ambition has partially been fulfilled," Stockhausen added.

Product marketing manager Matthias Quellmann said: "The wealth of textures that Granular Guitars provides is mind-blowing. It's amazing how Simon creates a totally new perspective on guitar instruments with Padshop."
The sound pack is available for purchase for 39.99 EUR incl. German VAT.
More information: Steinberg / Granular Guitars