Steinberg has announced the release of Simon Phillips Studio Drums, a special signature set for the Groove Agent drum software.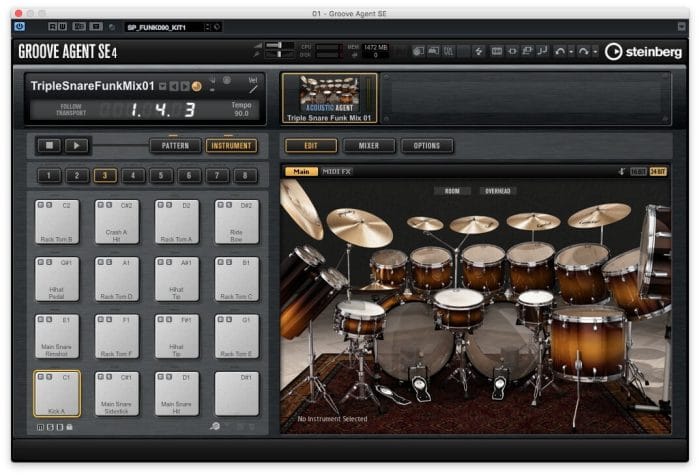 With over 6 GB of samples and 14 groove Styles that were recorded and played by Phillips in his Phantom Recordings Studios in Los Angeles, USA, Simon Phillips Studio Drums features over 27 kit pieces, including two kick drums, six snares, eight toms and four octobans.

The expansion pack comprises sounds in 16-bit and 24-bit versions as well as a dedicated macro page for Groove Agent 4 and Groove Agent SE 4. To obtain the typical Simon Phillips sound, additional options were added: room pitch and overhead microphone channels can be adjusted for each instrument group, and, secondly, 32 additional trigger samples for snare and kick each can be mixed to the acoustic signal for amazing drum sounds.

Working over 40 years as a professional, Simon Phillips has not only acquired invaluable experience in playing drums, but has also made him a proficient studio engineer his recording techniques of which derived from the many engineers and musicians with whom he shared the studio.

Matthias Quellmann, Senior Marketing Manager at Steinberg, commented: "We've been very fortunate to have worked together with Simon Phillips, an accomplished drummer with years of experience to show for it. Even more so since our collaboration brought about a superlative signature expansion pack."
Simon Phillips Studio Drums features
Original signature drum kit owned and played by Simon Phillips.
Recorded by Simon Phillips at Phantom Recordings Studio in Los Angeles, USA.
27 kit pieces including double kick drums, 6 alternate snare drums, gong drum and octobans.
24-bit recordings with up to 16 velocities and 5 round robins.
64 additional electronic trigger samples for kick and snare drums.
14 original Simon Phillips styles for rock, fusion, pop and blues.
Exclusive drum solo MIDI grooves played by Simon Phillips.
Tunable room and overhead channels for kick, snare, toms and octobans.
All Styles variable in complexity and intensity from within Groove Agent's Style Player.
Each Style includes several intros, fills and endings.
Simon Phillips Studio Drums is available for purchase for 79.99 EUR, including German VAT.
More information: Steinberg / Simon Phillips Studio Drums