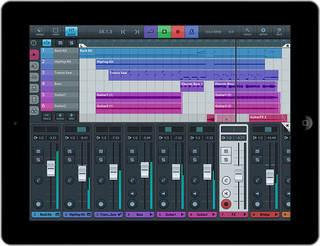 Steinberg has announced version 1.7.1 of Cubasis, a streamlined, multitouch sequencer app for iPad.
Steinberg announces today the release of a maintenance update for its Cubasis app.

This maintenance update solves many user-reported issues and is highly recommended for all users of Cubasis.
Changes in Cubasis v1.7.1
Start button added to the mixdown popup.
Solves a rare issue where triggering MIDI notes frequently on an instrument assigned via Core MIDI lead to hanging notes.
Fixes a rare phenomenon where MIDI port list popups appeared continuously.
Solves an issue where the attack and release values were reseted to their defaults when switching between projects.
Solves a rare problem where executing a mixdown of a project that contained IAA instruments lead to oversized audio files.
Moving the pan fader while playback is running no longer leads to audio dropouts.
Executing a FLAC mixdown of the same project no longer overwrites the previous audio file without notice.
IAA audio file naming has been corrected to allow projects to be imported in Cubase without the need to locate IAA audio files manually.
MIDI events with a huge number of notes no longer renders Cubasis unreliable.
Corrects an issue where a wrong instrument was highlighted in the Media Bay after an instrument was changed in Microsonic.
The effect status in the inspector now gets updated correctly by tapping its edit button.
Fixes a rare phenomenon where switching instruments while playing could lead to hanging notes.
Solves the issue where tapping the panic button did not reset hanging notes of an IAA instrument app.
Switching projects quickly that contain IAA instruments no longer renders Cubasis unreliable.
The playable keyboard range now updates correctly after an instrument is changed.
Cubasis for iPad is available to purchase for $49.99 USD. The Cubasis 1.7.1 update can now be downloaded on the Apple App Store.