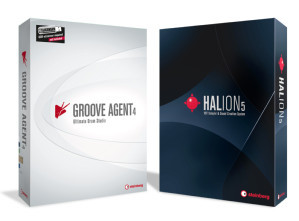 Steinberg has released version 5.1 of HALion, and version 4.2 of Groove Agent, updating its renowned VST instruments with many enhancements and new features.
HALion 5 is Steinberg's VST sampler and sound creation system, marrying sampling technology with the very latest in virtual synthesis. Its functional depth and flexibility allow sound designers the freedom to push their creative envelope.

The 5.1 update provides many workflow improvements and adds many tools and features to the HALion sampler, introducing eight new effects, new looping modes, sample editing tools and the vintage playback modes.

The Groove Agent 4 drum workstation comprises different drum modules each specialized in certain acoustic and electronic drum styles. With its additional capabilities to program patterns, mix drum tracks and add effects, Groove Agent is multi-role virtual drummer that leaves little room.

Groove Agent 4.2 now offers more integration with Follow Transport and direct MIDI routing to the plug-in host, advanced Note Repeat functionalities, individual control of the pattern pads in each Agent, a new alternate loop mode as well as providing several workflow improvements suggested by Groove Agent users.

"We've been listening closely to our customers and many of the new features are centered around their requests," said Matthias Quellmann, product marketing manager at Steinberg. "It's safe to say that these point updates will find a wide acceptance among users."
Both 5.1 and 4.2 updates for HALion 5 and Groove Agent 4, respectively, are freely available as downloads from the Steinberg website.
More information: Steinberg