Nektar has announced it is now shipping the Impact LX 88, the flagship product in the Impact line and the first Nektar keyboard featuring an 88 note semi-weighted keybed.

Developed for keyboard and piano players who need a full-range keyboard, the Impact LX88 is designed with performance in mind. Functions such as split, layer and MIDI out are included giving the performer the ability to set split point, program MIDI channels, Octave and transpose settings, send our program changes for each zone on the fly. A fully featured USB controller keyboard, the Impact LX88 delivers 9 faders, 9 control buttons, 8 pots, 6 transport buttons, 8 velocity sensitive pads, foot switch socket, MIDI out and control wheels. 5 user presets are designed for GM setups, "MIDI learn" capable DAWs and other music software.

The Impact LX88 in addition is fully supported by Nektar DAW Integration, giving it the same pre-mapped control power as the Impact LX25, LX49 and LX61 keyboards. Nektar Impact DAW Integration currently supports Bitwig Studio, Cubase, Digital Performer, FL Studio, GarageBand, Logic Pro, Nuendo, Reaper, Reason, Studio One and Sonar with additional template setups for Ableton Live and Avid Pro Tools.

Nektar DAW Integration offers custom integration with a common workflow. As such, working with supported DAWs, Impact LX88 goes way beyond the typical basic Mixer mapping. Users of supported DAWs will be able to navigate tracks, switch between controlling mixer or instruments, trigger and set loop points, switch metronome on/off, Undo and more.
Nektar Impact LX88 is available immediately in some territories and will be available in stores worldwide at the end of February with an MSRP of $329.99 USD/289.99 EUR/£219.99 GBP.
Nektar has also announced that the Panorama integrated keyboard controller products P1, P4 and P6, now features integrated support for Apple MainStage 3.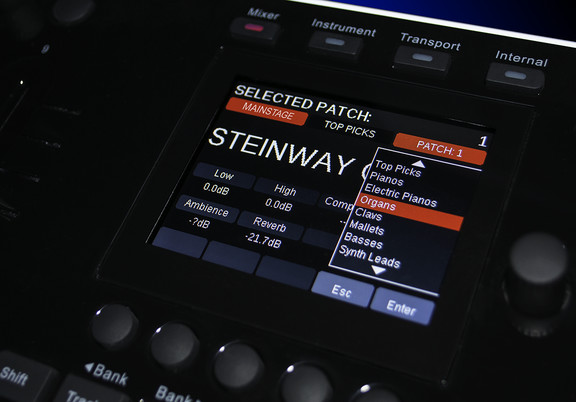 Apple MainStage 3 is already the standard for using computer software as a rig for live performances. Adding Panorama to the system takes MainStage to another level, providing complete transparency for the musician operating MainStage without having to keep a computer monitor within view.

The custom integration for MainStage is entirely focused on live performance. All the important information is immediately visible on Panorama's high-resolution TFT display including Smart Control mappings, parameter values and the current Patch name in large font.

Panorama's menu system allows for navigating Sets and Patches with a secondary navigation system offering direct selection via the 8 LED buttons.
Panorama supports all MainStage template concerts mapping controls automatically:
Comprehensive and transparent navigation of Sets and Patches
Smart Controls by default mapped to the 16 encoders
Tonewheel Organ drawbars mapped to the 9 faders
Master Volume is always available on the 100mm Alps motorized fader (P4 & P6 only)
Play, cycle, stop and marker controls mapped to Panorama's transport panel controls
Mixer Mutes and Solos mapped to the 9 Fader buttons
Panorama's controls can also be customized through MainStage's layout view offering full flexibility to meet any need for even the most unique concert peformances.
MainStage integration is free to existing Panorama users becoming available early February 2015.
More information: Nektar