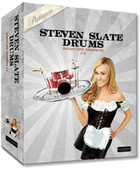 Virtual drum instrument Steven Slate Drums version 3.5 had been released.
Steven Slate has made drum samples for the most famous producers and mixers in the world. His drum samples have been used on some of the hottest new albums in rock, pop, metal, country, and hip hop.

Now, he brings his amazing drum sounds to the masses with Steven Slate Drums 3.0 SIGNATURE DRUMKITS. This new digital drum suite contains 40 world class drumkits including many that are authentic models of some of the most famous drum sounds from the past 40 years.

Steven Slate Drums 3.0 contains the SSD Virtual Instrument, a VST-DX-RTAS-AU midi drum sampler that has mappings for keyboard and mappings for all Roland VDrum modules. Each drum also comes in raw WAV format as well as Drumagog GOG format for live drum replacement and augmentation when you need to enhance or fix poorly recorded drumtracks.
New in Steven Slate Drums v3.5
New "advanced AMG" anti machine gun mode for ultra realistic response.
All new velocity programming for smooth natural playing.
New remapping features that allow 6 toms, sidestick on vdrums, etc.
Improved presets, improved snare sounds.
New "deep" kick knob adds extra warmth and depth to kicks.
New TRUE SWELLS crash button to enhance crash swells.
New VDRUM hi hat clamp setting emulates better hi hat clamp response.
Tom response greatly improved for ultra playability from keys or pads.
Quicker loading kits, less CPU intensive.
Platinum owners: 15 new "hybrid presets".
New "universal" vdrum map.
New velocity customization knob for tailoring of "feel".
New Snare Z2 Gog and Wavs, making snares smoother and longer decaying.
Steven Slate Drums is available for download for $329 USD (Platinum Edition). Steven Slate Drums LE is available for $149 USD.
More information: Steven Slate Drums