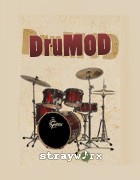 StaryWorx has announced DruMOD, a sample library for Native Instruments Kontakt with an alternative approach to drum kits.
There is an incredibly vast range of drum and snare samples on the market, some better, some worse. The most important common characteristic is all of them have been recorded in sets, and consume gargantuan amounts of HDD space, memory, and are often very complicated to manage, and set up their proper 'sound'.

An alternative approach to drum kits

We have applied an alternative method to record drum samples: bodies and hi-hats have been recorded one by one with three separate microphones, while snare got a nice four-mike treatment.

All drum units have been recorded with 2 close- and one overhead microphone – easy to route output signals
Volumes and panning can be modified separately, and all signals can be sent to individual outputs. You can completely customize the drum's sound experience by setting the appropriate balance between the three microphones' signals, each representing individual audio characteristics. You can also apply your favorite effects to create an entirely personalized and unique percussion support.
DruMOD features
Modularity – units can be individually loaded, an entire set as a complete drum kit, load the "multi-patch", and create your entire drum track.
Low memory and CPU need.
Features dynamic sample loading and memory management.
11 drums/cymbals included – Gretsch Broadkaster drum bodies (20×16 Kick, 14×5.5 Snare, 10×8 High Tom, 12×8 Low Tom, 14×14 Floor Tom), Zildjian K series hi-hats (14K hi-hat, 16K Crash, 17K China, 18K Crash-Ride, 20K Ride, 22k Istanbul).
Standard general midi drum map.
Extra articulation for all drum units.
Custom scripting – multiple round robin and velocity levels.
The DruMOD sample library is available to purchase for $16 USD. Requires full version of Kontakt 4.2.4 or newer.