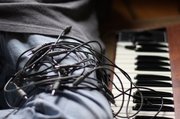 Stretta (Matthew Davidson) has announced that the complete Total Harmonic Distortion sample library is now available for free.
Matthew writes:
Fragments of the Total Harmonic Distortion sample library have popped up in various places, like the recent OLPC Sample Library Set. The complete library weighs in at nearly 3GB uncompressed. It is comprised of loops at various tempos created and processed with my modular synthesizer. Other pieces of hardware made guest appearances like the DSI Evolver, Roland R8 and Waldorf Microwave IIxt, but the bulk of it is the modular.
Total Harmonic Distortion is licensed under a Creative Commons Attribution 3.0 United States License, and made available through legaltorrents.com (download link), a community created to distribute Creative Commons licensed media.