String Audio has released DARKless, a sound library for Spectrasonics Omnisphere 2 featuring new soundscapes, signature samples and musical cues that will help you to write and produce your new musical masterpiece.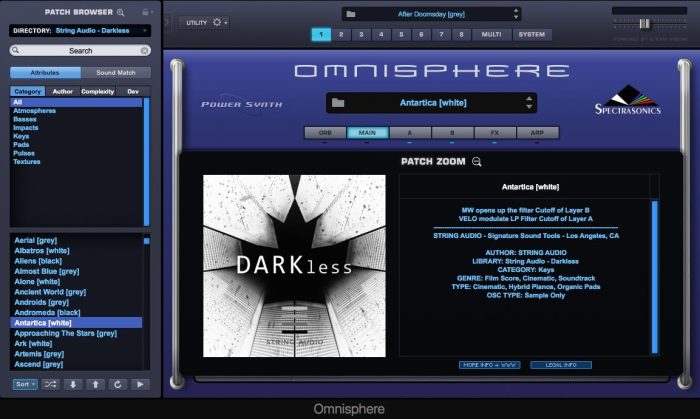 Following up on the success of LIGHTless, the new DARKless library comes with 2.7 GB of new samples, exclusively recorded and produced for Omnisphere 2 STEAM engine.
Although both libraries offer a very wide spectrum of sound possibilities, from the darkest to the most ethereal ones, DARKless is more oriented towards bright tones and a positive/emotional mood, making it the perfect companion of LIGHTless, which has sound characteristics oriented towards dark tones and a mysterious/sinister and aggressive mood.
DARKless features
2.7+ GB of brand new String Audio signature samples exclusively recorded and produced for Omnisphere 2.
305 Soundsources.
346 Patches.
128 Multis.
All Patches and Multis names contain an indication of the type of sound based on its tone and mood.
DARKless is on sale for the intro price of $79 USD for a limited time only (regular $99 USD).
More information: String Audio / DARKless