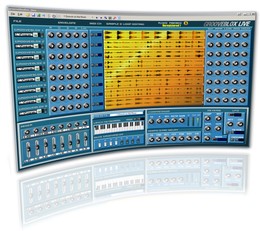 Supersynths has updated its GrooveBlox Live groove synthesizer to version 1.1.
GrooveBlox Live is a live performance plugin that allows anyone with any kind of hardware to create, manipulate and perform kick butt grooves with a minimum of fuss and a maximum of FUN!

The GrooveBlox Live core library includes a combination of 350 loops in five categories. The entire collection is only 388 megabytes, so it can fit on pretty much any kind of device. That means you can store it on your phone, tablet or laptop and not waste a ton of valuable space. It also means it takes almost nothing to download. However, the library is top quality looped grooves, drum beats, arpeggiated synths, basslines, guitar parts and all manner of cool and current effects.
Changes in GrooveBlox Live v1.1
The waveform/slice view has been widened by over 20% to allow for more accurate slicing and looping and a longer waveform display.
Two knobs were removed that simply confused everyone and had little impact on the synth. Instead, the EQ knobs were moved over and given more room so they are easier to use now.
A red square was added to highlight where the groove latch button is located since it is a very small feature and is quite important to using GrooveBloxLive. This makes it easier and more obvious to see it and use it.
MIDI learn was implemented in GrooveBloxLive's MUTE buttons, so using your control surface (such as a Akai MPK Mini) allows you to map the GrooveBloxLive Mute buttons to the controller keys, buttons or pads of your choice. Now you can use GrooveBloxLive in live performance with nothing more than a laptop and small keyboard or control surface.
All GrooveBlox are being edited and improved. So far, you will notice a change in the 'Drums' section, but ALL GrooveBlox are being edited to make sure they ALL line up. This will make using GrooveBlox Live EVEN BETTER.
GrooveBlox Live for Windows (VST) is available to purchase for $40 USD. The update is free to current GrooveBlox Live users. Supersynths has announced that additional GrooveBlox will be released in the coming weeks, adding more grooves, arps, effects, bass or sets to the core product.
More information: Supersynths / GrooveBlox Live