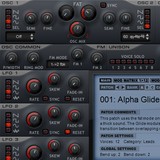 Synapse Audio has released Dune, a massively deep, versatile, high-quality instrument developed for the needs of professional music producers.
The differential unison engine (DUNE) takes the concept of subtractive synthesis to the next level, by allowing full control of each unison voice. This greatly extends the range of possible sounds, reaching deep into FM and Wavetable synthesis.

Whether you're looking for lush pads, fat basses, punchy kicks, cutting leads, multi-layered pads and textures, complex FX sounds or morphing – anything is possible in Dune!
Dune features
2 Oscillators with Osc Sync, Pulse Width, Ring- and Frequency Modulation.
Sub Oscillator.
FAT knob for both oscillators, each generating 7 detuned oscillators.
Oscillator waveforms comprise Sawtooth, Pulse, Triangle and a wavetable.
The wavetable contains 69 additional waveforms which can be modulated to obtain Wavetable Synthesis type patches.
3 FM Modes including FilterFM.
Noise generator with brightness control.
Multimode Filter with Lowpass, Bandpass, Bandstop, Highpass and combo types.
3 LFOs with Sawtooth, Pulse, Triangle and S+H Noise.
3 ADSR envelopes with additional parameters in the modulation matrix.
Arpeggiator with 7 different modes, including the new creative mode "Dynamic", which adapts sequences according to how many/which keys are being pressed.
Mono-Legato Mode with Glide.
Complex modulation matrix, which can not only modulate the front panel knobs but includes many additional parameters for experts; additionally the ability to modulate MM Slots by other MM slots.
Host Tempo Sync for the Arpeggiator, all LFOs and the Delay Unit.
Up to 8 unison voices, which can be further controlled by the mod matrix.
Comprehensive, high-quality effect section with Distortion, two EQs, Phaser, Flanger, Chorus, Delay and Reverb.
All patches can be sorted and browsed by categories (Bass, Leads, Pads etc.).
Dune is available to purchase as a virtual instrument plug-in for PC and Mac (VST/AU) priced at $139 USD.
More information: Synapse Audio