Synthetic Bits has released version 2.0 of FunkBox Drum Machine, a drum machine app for iOS.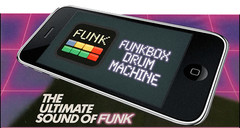 FunkBox was used by Gorillaz when recording their new album "The Fall", hear it at thefall.gorillaz.com! Also featured in Electronic Musician magazine's "Attack of the Killer Apps" best music tools for the iPad, and Computer Music Magazine's "Amazing Music Apps" special issue.

Put a little funk in your pocket with the FunkBox vintage drum machine app from Synthetic Bits! FunkBox is designed to look, feel, and sound like a classic beatbox from the 70s and 80s. It uses original audio samples taken directly from our own personal collection of vintage drum machines.
FunkBox 2.0 features
Works great on iPad, iPhone, and iPod Touch.
Look, feel, sound and quirks of a vintage beatbox.
Includes 36 preset rhythm beats, or easily edit patterns and create your own.
Nine preset boxes to choose from, including the 808, 909, CR-78, LM-2, MRK-2 and more.
Customize boxes by mix and matching preset samples, or import and use your own samples.
Export your drum loops as audio or midi to email, audio pasteboard, iTunes folder.
Use CoreMIDI to sync and/or control FunkBox with music hardware/software via USB-CCK or Network MIDI.
FunkBox for iOS 3.0 or later is available to purchase for $2.99 USD.
More information: Synthetic Bits