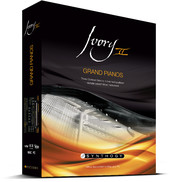 Synthogy has announced that it will begin shipping Ivory II – Grand Pianos through its distributor ILIO and retail stores on September 13, 2010.
Ivory II – Grand Pianos will be the first of Synthogy's new products to feature the all-new Ivory II piano DSP engine. It is the first major upgrade to all of its Ivory pianos since they were first launched. Significant improvements have been made to both the piano DSP engine and to the integrated sample libraries that come with the products. Following the release of Ivory II – Grand Pianos, the Ivory II upgrade to Synthogy's Italian Grand will be available near the end of September, while the Ivory II upgrade to Upright Pianos is expected later this year.

The Ivory II piano DSP engine includes many new features Synthogy customers have been requesting, including Harmonic Resonance Modeling for Sympathetic String Resonance, Half Pedaling, Pedal Noise, Lid Position, Timbre Shifting, Parametric EQ, Tuning Tables, and New Synth Layers with controls.
Ivory II – Grand Pianos features
Over 77 Gigabytes of stunning, Acoustic Grand Piano sampled instruments: Bösendorfer 290 Imperial Grand, German Steinway D 9' Concert Grand, Yamaha C7 Grand (Each piano can be installed separately).
Up to 18 discrete velocity layers with Sample Interpolation Technology for ultra-smooth velocity and note transitions.
Harmonic Resonance Modeling for the most realistic Sympathetic String Resonance possible.
Half-pedaling.
Synthogy's exclusive, powerful 32 bit Sample Playback and DSP engine, engineered specifically for recreating the acoustic piano.
Sustain Resonance DSP for realistic Damper Pedal response.
World class digital FX including Real Ambience, Chorus and EQ.
Customizable User controls for Timbre, Stereo Width and Perspective, Velocity Response, Mechanical Key Noise, Lid Position, Tuning Tables, and more.
Expertly tuned and regulated pianos in world-class studios and concert halls.
All 88 keys individually sampled in up to 18 dynamic levels (plus Bösendorfer extended low octave).
Incorporates exclusive Sample Interpolation Technology used for ultra-smooth velocity and note transitions.
Real Release samples, Soft Pedal samples, and Pedal Noise enhancements.
Optional synth pad layer for modern/pop combinations.
Dozens of user-adjustable presets.
Upgrade paths are available to users of previous versions of Ivory products.
More information: Synthogy