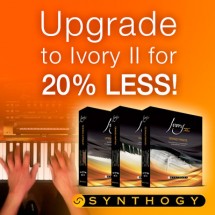 Time+Space has announced that upgrades to Synthogy's Ivory II virtual pianos are 20% off in July.
"This is industry standard, production-ready software that´s a joy to have around. There´s little else to say. Just go and play it…" – Sound on Sound

Since being unleashed unto the world in the Autumn of 2010, Synthogy´s Ivory II pianos have reaped praise from the press and users alike for their incredibly authentic sound and playability.

This month, Time+Space are giving users who are still tinkling the ivories of the Version 1.x titles the chance to upgrade to Ivory II for 20% less!

What are the benefits of upgrading?

Soaring at the highest possible levels of sampling and synthesis technology, each of the three Ivory II products now feature a greatly expanded sound set with nearly double the velocity layers, and the powerful, new Ivory II piano DSP engine with Harmonic Resonance Modelling for true Sympathetic String Vibration.

Ivory II also delivers some of Synthogy's most frequent customer requests, with features such as Half Pedaling, Lid Position, Pedal Noise, and Tuning Tables to provide even greater detail and control. Additionally, features like Timbre Shifting, Parametric EQ, and new Synth Layer controls offer powerful new sound sculpting capabilities for custom piano programming and sound design.
Ivory II upgrades in July
Ivory II Grand Pianos Upgrade — Now £70.95 GBP / 82.95 EUR (regular £88.95 GBP / 106.95 EUR).
Ivory II Italian Grand Upgrade — Now £38.95 GBP / 45.95 EUR (regular £46.95 GBP / 55.95 EUR).
Ivory II Upright Pianos Upgrade — Now £64.95 GBP / 75.95 EUR (regular £74.95 GBP / 89.95 EUR).
This offer expires July 31st, 2013.
More information: Time+Space