Denise has announced the release of its new Perfect Plate and Perfect Plate XL reverb effect plugins.
Perfect Plate gives you control over 5 aspects to shape your plate sound: How quickly and how long the plate vibrates, how long it takes for the plate to react to the input signal, how much space the plate takes, and how crazy the plate sounds.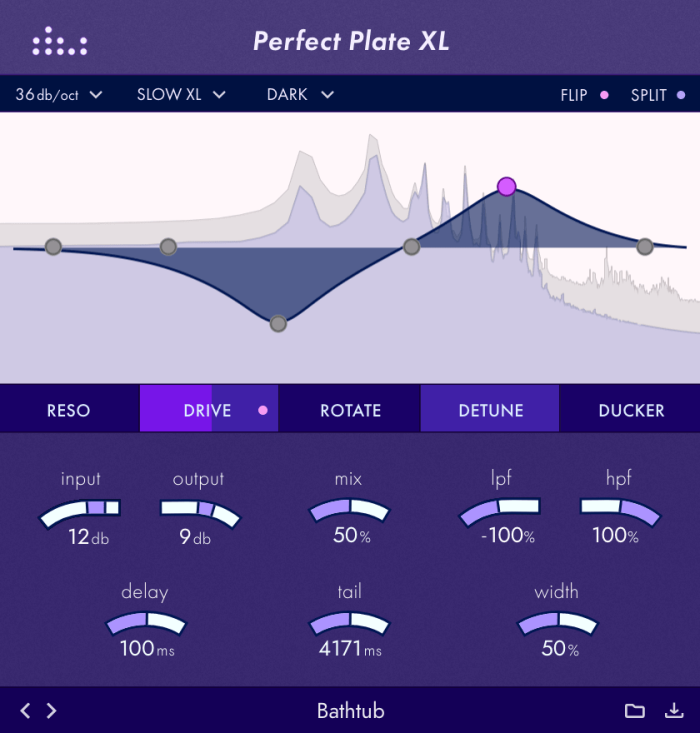 The TXVerb™ technology that drives the Perfect Room – a plugin many engineers regard to be the best sounding natural reverb – is at the base of denise's newest plugin: the Perfect Plate. The denise team believes that being able to take creative control over a plate reverb's temper, character and movement gives you the ability to design your perfect plate reverb.
Perfect Plate / Perfect Plate XL features
TXVerb™ reverb technology: Unique algorithm that enhances natural character & colouration.
Control the plate's character & movement: Shape the 5 aspects that determine a plate's sound.
Rotator (XL) & Ducker: Create movement by ducking and combining host-synced vibrato, tremolo, filtering & panning effects.
Larger than life mono to stereo: Create a wide stereo reverb from a mono source without any phase issues
Detune, Resonator (XL) & Saturation (XL): Inject metallic imperfections, add vintage flavor, build cinematic & SciFi effects or turn any audio source into a synth.
Resizable GUI, Catalina support & Perfect for external FX: Used on a bus, you can combine the Perfect Plate with all kinds of effects to create character and excitement.
EQ graph (XL): Adjust the reverbs colour by shaping its frequencies and resonances in the built-in EQ graph.
Perfect Plate and Perfect Plate XL are available from Denise and distributor Plugin Boutique at introductory prices of 39 USD/EUR and 79 USD/EUR, respectively.
The offer expires November 7th, 2020.